Welcome to the ANZEL Multimode VoIP / RoIP Network
Site Updated: 26th September, 2023

ANZEL Multimode Network
EchoLink *HAM*  69556, *AOTEAROA* 256883, *WALES* 485040, *MEGANETS* 637329, *SWDG* 676659, *NEWPORT* 958488, M17-432 H, M17-WAL H, M17-SWD H, AllStar 49903, 48820, 52284, IRLP 9556, DVNZ D-Star XLX299-H,  TGIF TG 50556, FreeDMR 50556, YSF Reflector 50556, Extended Freedom SIP 499814 and Hamshack Hotline 94144
UPCOMING CLOCK TIME CHANGES
Updated: 23rd September, 2023
In New Zealand Standard Time will begin at 2:00 am on Sunday, 24th September, 2023.
In Victoria, Australia Eastern Standard time will begin at 2:00 am on Sunday, 1st October, 2023.

In the United Kingdom British Summer Time (BST) ends and goes back one hour to UTC (GMT)  at 02:00 am on Sunday 29th October, 2023.

In the United States of America Daylight Savings time ends on Sunday, 5th November, 2023 at 0200 hrs.

Zoom EchoLink Presentation by Jonathan K1RFD
14th September, 2023
Jonathan Taylor, K1RFD, who developed EchoLink the Voice over Internet Protocol network for linking repeaters and amateurs, was a guest of the Hunter Radio Group VK2AWX in Newcastle on the 14th of September. EchoLink has a global reach of nearly half a million amateur radio users.
Amateur Radio New South Wales provided a link via Zoom so Jonathan's talk could be heard worldwide.
Jonathan, a resident of Connecticut USA, was inducted into the CQ magazine Amateur Radio Hall of Fame in 2005. The program took place between 1800 and 2200 hrs AEST.
A recording of the Zoom event was made by John VK3HJQ and has been uploaded to YouTube.
If you would like to watch the talk by Jonathan you can either click the image above or click HERE
Welcome to the 'QSO with the Kind Young Ham Net'
Updated: 5th July, 2023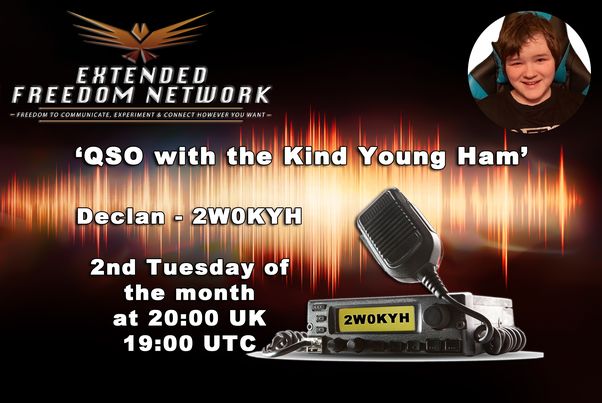 QRV @19:00 UTC every second Tuesday of the month, this net presents a positive, friendly environment for positive conversation. This month's net, as usual, will have a question for you to answer if you so choose.
So, whether you want to answer the question, or have a light-hearted, friendly conversation with the net control, Declan 2W0KYH, this net will welcome you with open arms!
This Net is carried on the ANZEL Multimode Network
ANZEL Multimode Network

Admin Team
VK2DY Robert – *HAM* EchoLink Conference Trustee
ZL4NORM / ZL4SY Norm – *AOTEAROA* EchoLink Conference Trustee / Facebook Group
GW8SZL Dave – *WALES*, *MEGANETS*, *SWDG*, *NEWPORT* EchoLink Conferences Trustee / ICT / Web Site
VK3HJQ John – Operations / News Broadcasts

2W0KYH Declan – Official ANZEL Mascot
Email: admin@anzel.radio
VISITOR'S