VK3HJQ

Albury Ham Fest 2000/2002 page
Here are some photo's taken at the Local Ham Fest in Albury by Alf VK3CQE. (13/08/2000)
In the above and below pictures is myself John VK3HJQ
setting down operating Iphone (internet phone)
and having my First Contact with W8ZCF Farrell in the USA, with John VK3LM looking on.
This image of myself John VK3HJQ was sent using IPhone from
Australia to the USA and back again.
Below are a few more Web Cam Images taken at the Ham Fest.
VK3LM John VK3CQE Alf VK2AYM Bruce
VK2EXA Greg VK3AQU Ian VK2TGS Brian
VK3CQE Alf W8ZCF Farrell
Albury Ham Fest 2002
Pics thanks to Greg & Dallas (vk2exa & xyl) & Alf (vk3cqe). 04/08/2002
RIVERINA FIELD DAY - 4TH AUGUST 2002
The Riverina field day was held on the 4th of August this year in Albury at the Murray High School Kaitler's Rd Lavington and was very successful.
Front to back - Peter vk2zza & David vk3anp looking for some bargains
From left to right - The guys having smoko, Laurie vk3yle, Bruce vk2aym, Darrell vk3kln
Chris vk3cgb at the back checking out the ICOM stand
Peter vk2yx giving a talk on IRLP
From left to right - Nice hat shot by Alf vk3cqe of Alan vk2kaw & John vk2yw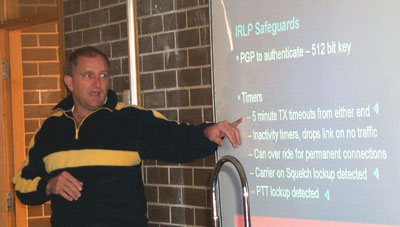 Close up of peter vk2yx talking on IPLP
Peter explains, "Take note of the 5 minute TX timeout, so you will have to keep the overs short ha Alf"
Geoff vk2xjg giving a talk on APRS
Barry vk5kxu at his display
ICOM display, some nice gear here
Adobe Acrobat Reader is required to view/print the PDF documents on this page.
If you don't have Acrobat Reader, download it from here:
Click here
Peter vk2yx IRLP Presentation
as seen at the Albury Ham Fest
Click here to download IRLP_Presentation.pdf
VK3HJQ Home Page
© vk3hjq 2001-2022 All Rights Reserved. vk3hjq@hotmail.com