VK3HJQ

Projects & Circuits Page
Note: Best viewed at 1024x768 Resolution, refresh page & or clear history for new page updates.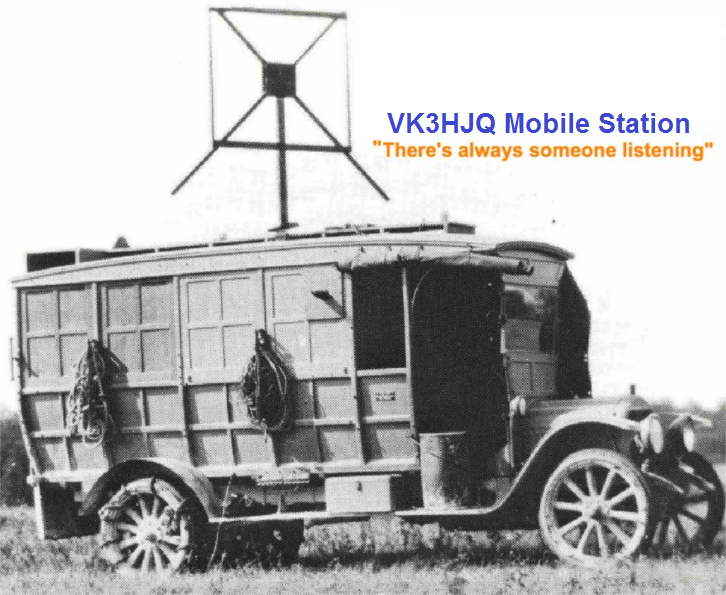 "Promoting better On Air Audio Quality for EchoLink"
EL Mic Mod
Simple EL Interface circuit (with audio Band Pass)
"EASY DIGI" EL Mod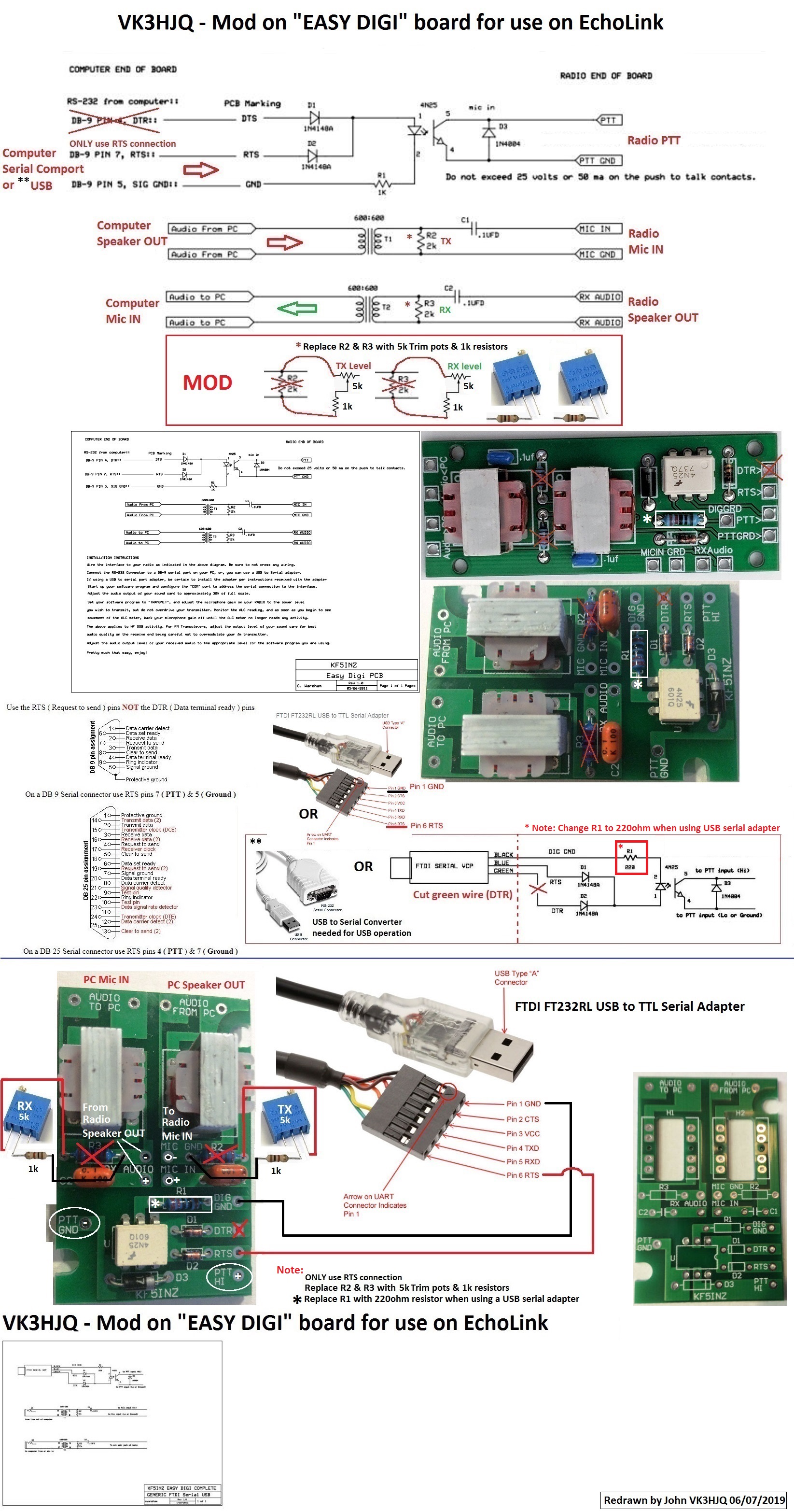 EL Audio Board
Audio Isolation/Band Pass Filter/DC Blocking circuit
EL Audio Isolation/Compression circuit
EL audio conversion (EL old software version)
EL PTT SW
3D Printed - 3.5mm Audio Switch Box (2in & 1out)

APRS Digital VOX Circuit
NOTE: Dave G4FRE/WWR2 Mod 02/14, he replaced the Darlington Transitor with a MOSFET 2N7000 (T2) for better PTT switching, this also means rewiring R5 & changing the resistor value as shown in the circuit above.
Refer article - "An AFSK Interface for Android Smartphones" by Martin K0BXB - QST Magazine MAY 2012
On Air TX Indicator
Power Supply Crowbar Circuit
DTMF FM900/FM92 Mic Mod
Baycom TCM3105 AX.25(Amateur X.25)Packet Modem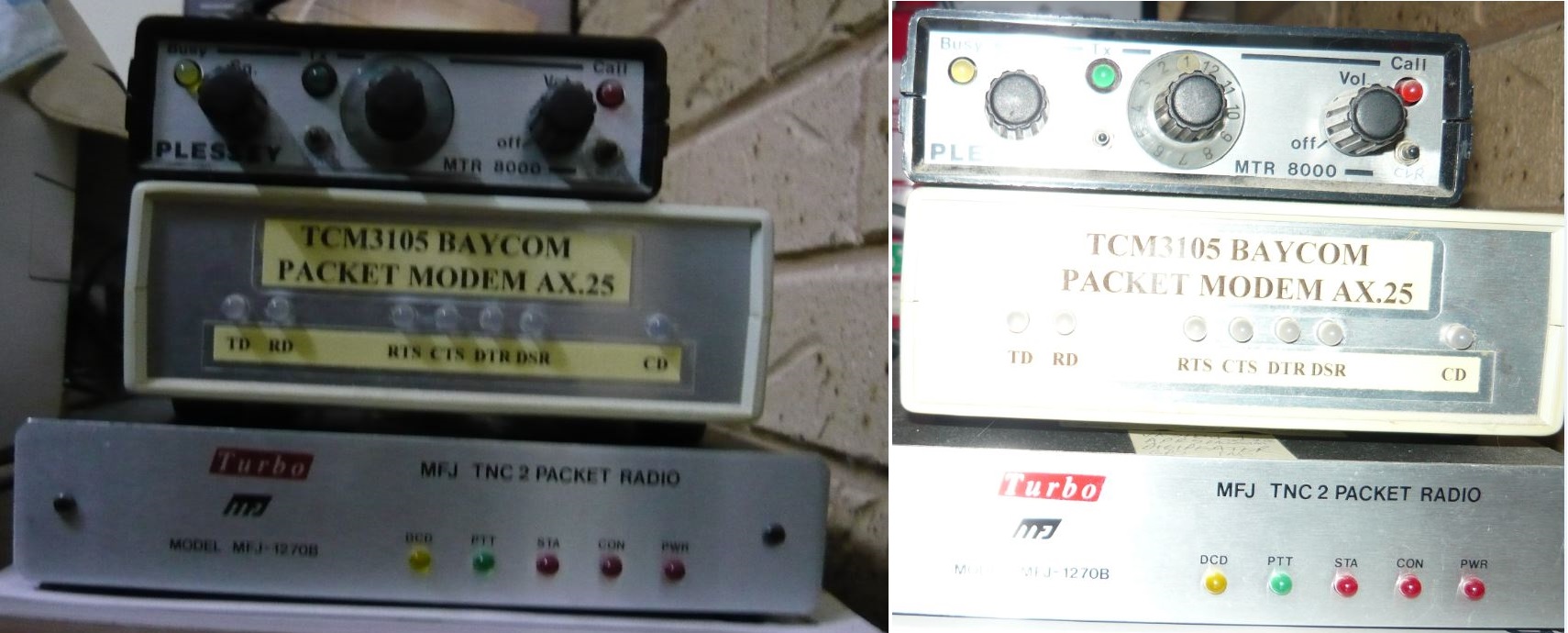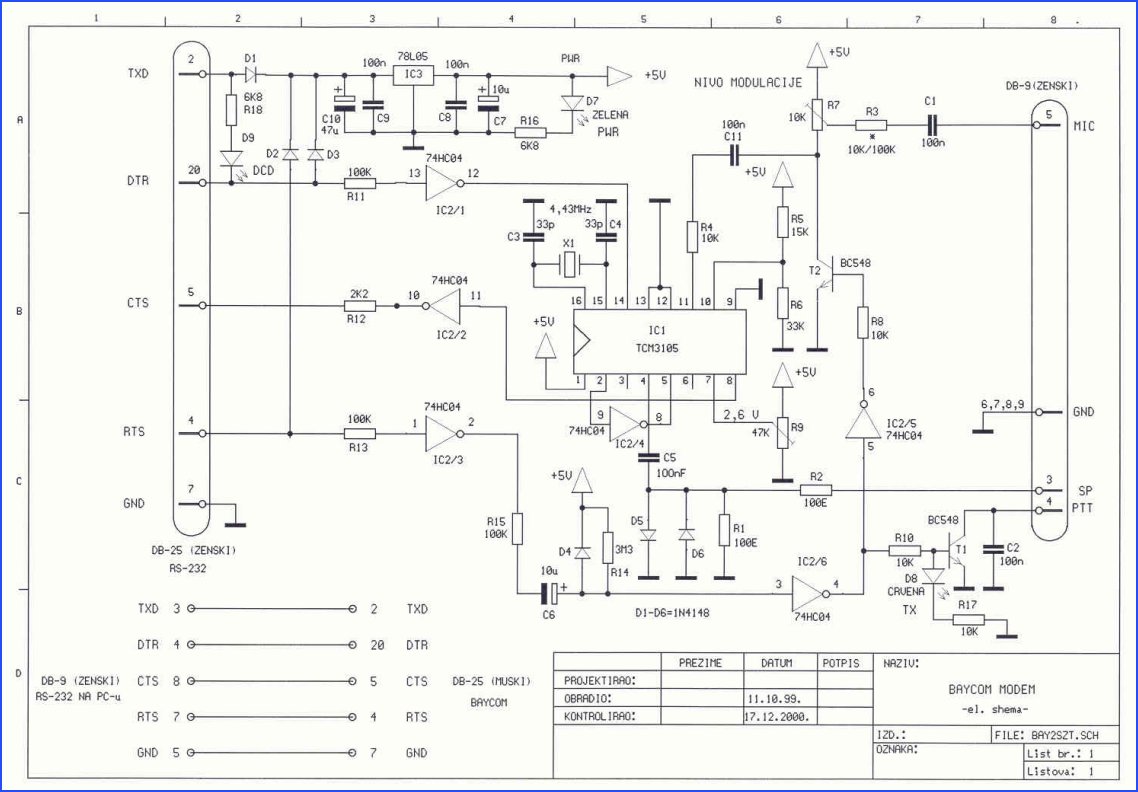 Battery Eliminator - UV5R
Battery Charger Mod to stop over heating - UV5R

Here is a Modification to fix the Heat problem on these Desk Top Chargers using HXN- WS, SC6038 and AM6138 IC's.
Just replace the 0.5 ohm resistor (PIN 7 IC) with a 1 ohm resistor, very simple, this will Half the Charge current, Double the Charge Time and Half the Power Dissipation / Temperature.
Approximately 400ma Charge current to 200ma Charge current.
Approximately 5hrs Charge Time to 10hrs Charge Time.
Approximately 1.2W Power Dissipation to 600mw Power Dissipation.
This lower the Temperature of the HXN-WS (SC6038, AM6138) IC from about 64°C to 32°C
Note: Some of these Desk Top Charger are not using these charging IC at all, now you have over voltage charging.
TESTED:
Red LED ON: Charging.
Red to Green LED changes @ 8.49 Volts.
Green LED ON: 9.97 Volts.
Maximum output Charge Voltage should be 8.4 Volts +/- 1%, NOT 9.97 Volts.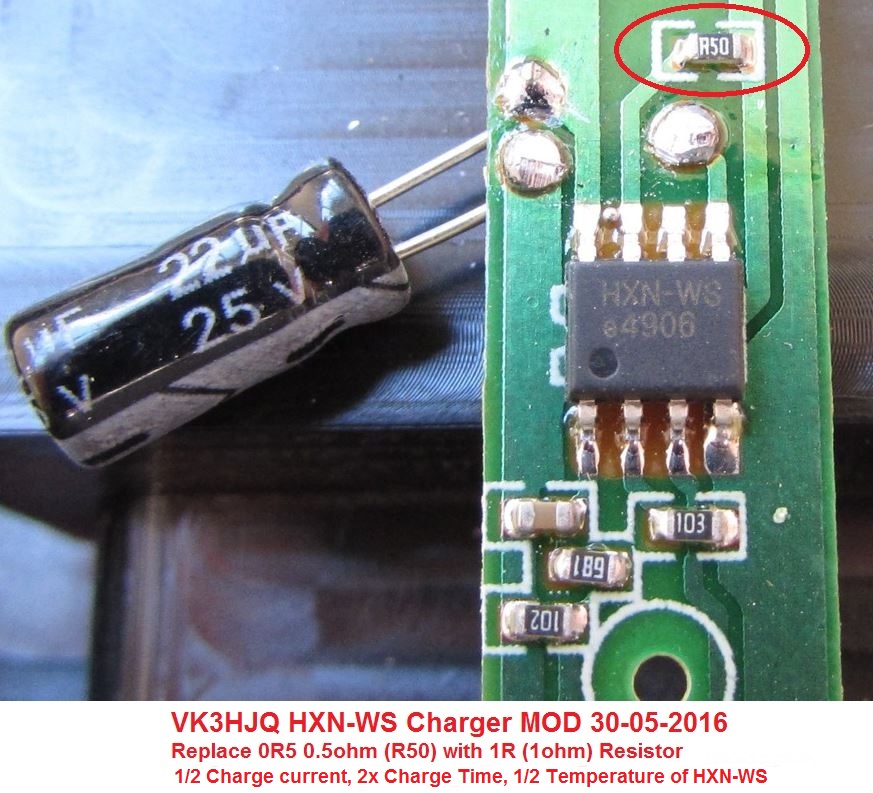 IC-290H Battery Backup
NBN FTTN Modem Fan Cooling Mod
NBN FTTN Modem cover bright LED Mod
NBN FTTN Modem Battery Backup
VK3HJQ Home Page
© vk3hjq 2001-2022 All Rights Reserved. vk3hjq@hotmail.com